The following events will be held in the Wiley Campus Cafeteria at 7:00 PM
"The Testing Charade: Pretending to make schools better" by Daniel Koretz. We will hold a book discussion February 6 and 13, 2019.
Ask Suzanne at MacsBacks at 1820 Coventry to order it for you at a 20% discount or use your own local bookstore. You can order online from MacsBacks as well – (link)
Tel: 216.321.2665. email: suzanne@macbacks.com
Co-Sponsors:
Reaching Heights
CHUH PTA
Northeast Ohio Friends of Public Education
Cleveland Heights Teachers Union
Notre Dame College
League of Women Voters of Greater Cleveland
North Eastern Ohio Education Association
Northeastern Ohio American Federation of Teachers Retired (279R)
Future Heights
CHUH Board of Education
Cleveland State University Center for Urban Education


RESOURCES:
Get a taste of the book: Summary by Jan Resseger (link)
Check out our very own Dan Bobeczko's quick reference summary of the book by chapter. We still recommend reading the book, but this document might replace your own notes. (link)
Get a sneak peak at the discussion guides for:
February 6 (link) and February 13 (link)
Video interview with Daniel Koretz by Harvard EdCast (link)
Testing Charade Book Review by Arizona State University's Education Review – Audrey Amrein-Beardsley (link)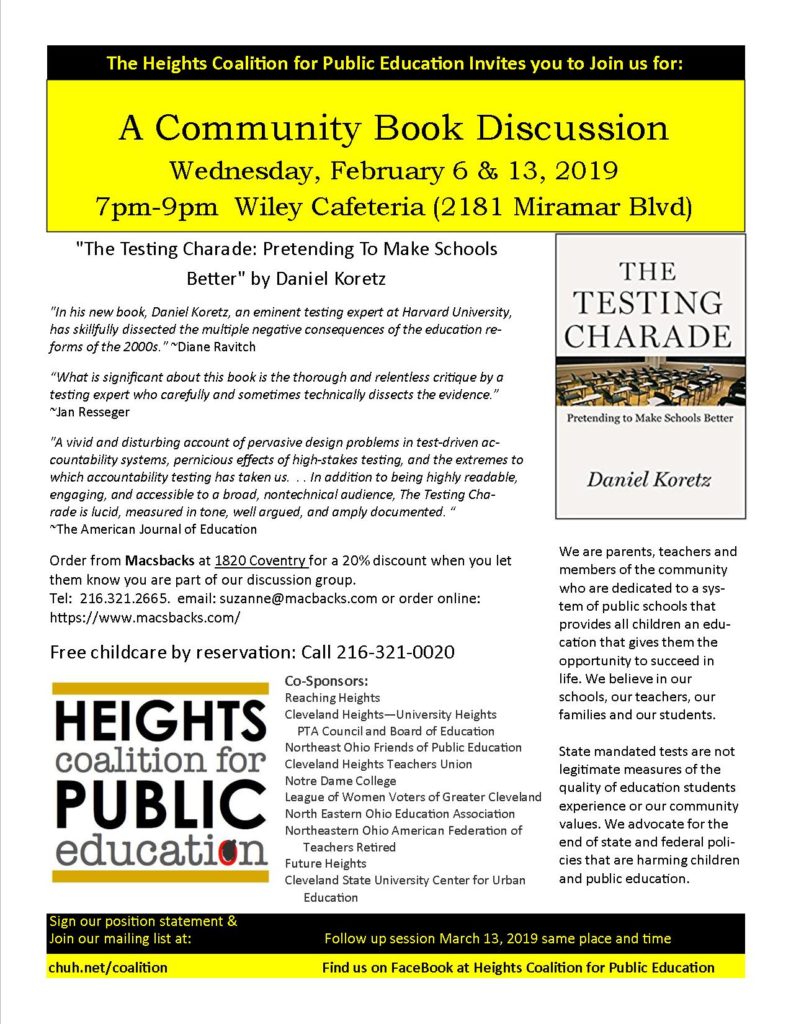 March 14, 2019: We are co-sponsoring a League of Women Voters forum on vouchers at the Cleveland Heights Main Public Library on Lee Rd. More info to follow.
IF YOU ARE INTERESTED IN PURCHASING 1 GRADUATE CREDIT THROUGH PARTICIPATION IN THIS BOOK GROUP – LINK HERE